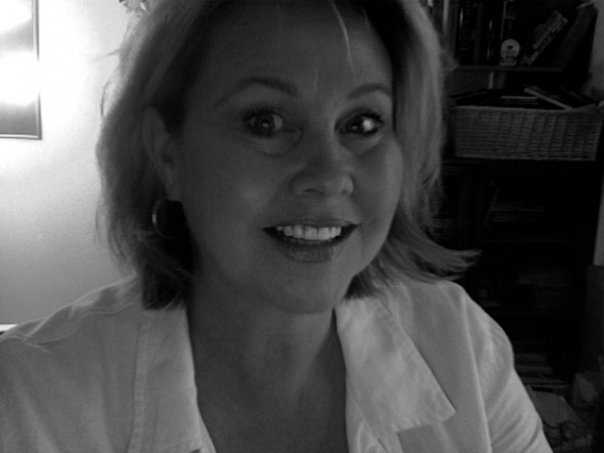 From Houghton to Hollywood: STC Alumna Follows that Dream
By Dennis Walikainen, senior editor
Suzanne Jurva '82 always knew she was going to end up in movies. And the humanities alumna did.
"Saving Private Ryan," "Amistad," "Gladiator," "Minority Report," "The Prince of Egypt," and "The Lookout"--all have involved Jurva. For "The Peacemaker," with George Clooney and Nicole Kidman, she arranged for the film to premier in Houghton in 1997.
This weekend, she was on campus to promote her first documentary as an independent filmmaker.
"It's just me. Everyday. Alone," she laughs.
The film is "Changing Keys," the story of guitar virtuoso Bill McLaughlin, who, after suffering the debilitating disease dystonia, had to learn to play guitar left-handed. McLaughlin's story is inspiring and magical.
Jurva began her "front-end" career by doing research for movies, bridging the ideas for the films with the scriptwriting and producing.
"I started out with the American Film Institute," she says, "just volunteering to get experience. Then I worked my way onto sets in LA and did some work in public television in Green Bay, getting A reel, which means putting some actual films together," Jurva says.
Then she headed back to LA and landed the dream job: working at Dreamworks, Steven Spielberg's company. She ended up as development executive and head of research; her duties were to bring a project to a script, which meant working with researchers, writers, and directors.
Her children grew up in the Hollywood scene and were unfazed by their mom working at Spielberg's company. Jurva herself has avoided much of the trappings of Hollywood and doesn't go to the award shows. "They are boring." Besides, she says, she's busy with softball and volleyball and whatever else her 17-year-old daughter and 14-year-old son are doing.
In her new business, she continues seeking out the good stories, fodder for documentaries, and putting them on film. One might be a new look at Garrett Lisi, "the new Einstein." (Lisi is a long-disappeared physicist who has reemerged with interesting theories regarding general relativity.)
"There's no shortage of interesting people and stories," Jurva says. That's where the "Changing Keys" film came from. "Billy was just someone I got to know, this virtuoso, and he loses control of his hand," she says. "He didn't know what he was going to do. It's not a film. It's a story."
And Jurva's challenge now is distributing the story. That's what brings her to film festivals, like Tech's Northern Lights Film Festival, put on by Erin Smith, senior lecturer in the humanities department.
From the looks of her first offering, you'll be seeing more of her work.
More information on "Changing Keys" is available at: www.changing-keys.com and www.billymacmusic.com .
New! Changing Keys won a Platinum REMI award at the Houston World Fest International Film Festival for Documentary (under 60 minutes).


April 1, 2009
News
Lehti, jossa juttu ilmestyi, on Michiganin teknologisen yliopiston henkilökuntalehti (Michigan Techological University Faculty / Staff newsletter).
Houghtonista Hollywoodiin: STC:n alumni seuraa unelmaansa
By Dennis Walikainen, senior editor
Suzanne Jurva (valmistunut ´82) tiesi aina, että hän päätyisi elokuvien pariin. Ja niin humanististen tieteiden alumnille sitten kävikin.
Jurva on osallistunut "Pelastakaa Sotamies Ryan", "Amistad", "Gladiaattori", "Minority Report", "Prince of Egypt" ja "The Lookout"elokuvien tekoon. Hän järjesti "Peacemaker"-elokuvan ensi-illan George Clooneyn ja Nicole Kidmanin kanssa Houghtonissa 1997.
Tänä viikonloppuna hän esittelee ensimmäisen itsenäisenä filmintekijänä tekemänsä dokumenttielokuvan.
"Se olen vain minä. Joka päivä. Yksin." hän nauraa.
Dokumentti on "Changing Keys", kertomus kitaravirtuoosi Billy McLaughlinista, joka sairastui dystoniaan ja joutui opettelemaan kitaransoiton vasenkätisesti. McLaughlinin tarina on inspiroiva ja taianomainen.
Jurva aloitti uransa tekemällä tutkimustyötä elokuviin, tuomalla ideansa käsikirjoittajille ja tuotantoryhmälle.
"Aloitin American Film Institutessa", hän kertoo, "vapaaehtoisena, jotta saisin kokemusta. Työskentelin ja raivasin tieni kuvauksiin LA:ssa ja tein myös työtä (public television) televisioon Green Bayssa. Getting A reel, että sain kasata elokuvan." Jurva sanoo.
Sitten hän suuntasi takaisin LA:han ja sai unelmiensa työpaikan: Dreamworksilta, Steven Spielbergin yhtiöstä. Hänestä tuli lopulta yhtiön kehityspäällikkö ja tutkimusjohtaja: hänen velvollisuuksiinsa kuuluu saattaa projekti käsikirjoitukseksi. Se tarkoittaa työskentelyä tutkijoiden, kirjoittajien ja ohjaajien kanssa.
Suzannen lapset kasvoivat Hollywoodissa ja tottuivat siihen, että heidän äitinsä työskenteli Spielbergin yhtiössä. Jurva itse on välttänyt suurimman osan Hollywoodin houkutuksista, hän ei käy palkintojuhlallisuuksissa. "Ne ovat tylsiä". Sitä paitsi, hän sanoo, hänellä on kiire softballin ja lentopallon ja kaiken muun sen kanssa, mitä hänen 17-vuotias tyttärensä ja 14-vuotias poikansa ovatkaan tekemässä.
Uudessa työssään hän jatkuvasti etsii uusia hyviä tarinoita, joissa olisi aineista dokumenttiin, ja joista voisi tehdä elokuvan. Yksi aihe saattaa olla uusi katsaus Garrett Lisiin, "uuteen Einsteiniin". (Lisi on kauan unohduksissa ollut fyysikko, joka on noussut esiin esittämällä uusia ja mielenkiintoisia teorioita, jotka koskevat suhteellisuutta. (general relativity))
"Ei ole pulaa mielenkiintoisista ihmisistä ja tarinoista", sanoo Jurva. Kuten "Changing keys" elokuva osoittaa. "Billy on ihminen, jonka satuin tuntemaan, tämä virtuoosi, joka menettää kykynsä hallita kättään", Jurva sanoo. "Hän ei tiennyt, mitä voisi tehdä. Tämä ei ole elokuvaa. Tämä on kertomus."
Ja nyt Jurvan haasteena on jakaa tämä kertomus muiden kanssa. Tämä tuo hänet filmifestivaaleille, kuten tänne Tech's Northern Lights Film Festivalille, jonka on järjestänyt Erin Smith. Smith on humanististen tieteiden osaston pääluennoitsija (senior lecturer).
Suzannen ensimmäisestä elokuvasta voidaan jo päätellä, että tulette näkemään lisää hänen töitään.
Lisätietoa "Changing Keys" dokumentista on saatavilla: www.changing-keys.com ja www.billymacmusic.com .